CMG at PRS Europe 2020
Innovations focused on circular economy
Utmost operational efficiency, homogeneous regrind and absence of dust, integration 4.0, the most optimized total cost of ownership: these are all the benefits associated to the latest developments that CMG will present at PRS Europe, in Amsterdam on March 25 and 26.
With the new Evoluzione range and the EV916 and EV616 models, the company presents its most performing, versatile, efficient and sustainable solutions. The model on display is the EV616, a 9-ton giant but with dimensions sufficiently reduced to be installed on a stand. In addition to the precision to the hundredth of a millimeter on the construction of the new cutting chamber, which allows a much longer blade life compared to conventional models, the whole Evoluzione range is equipped with advanced controls, in the Industry 4.0 style, to make the machine operational 100% monitorable and manageable. Operating temperature, blade wear, productivity, operating efficiency, energy consumption - all functional parameters managed on the machine or remotely with OPC-UA protocol connectivity - are just some of the distinctive features.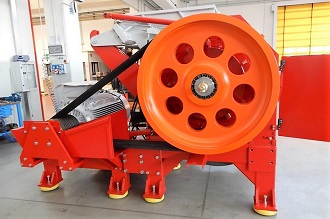 All CMG units, from medium to high capacity, feature the Adaptive Motor Power function. The granulator is able to independently determine which power level to adopt for operating, according to the quantity of material to be ground, the shape, the weight, the thickness, the type of plastic, the temperature of the parts. The AMP allows optimizing the quality of the regrind to the highest degree (homogeneous particles and absence of dust) and reducing the use of electrical energy to a minimum. 25 Wh/kg is the reduced amount of energy that a CMG granulator uses, compared to the 40 and over Wh/kg of a conventional unit. The return on investment for the AMP is only of few months.
Back to previous page