Appointment
Alfred Stern will take over from Mark Garret at the helm of Borealis
After more than 11 years as CEO of Borealis, Mark Garrett (top picture) has decided to leave the company to pursue a new career path. The supervisory board of Borealis regrets but accepts this decision, recognising Garrett's outstanding contribution to Borealis' success.
Executive vice president Alfred Stern (bottom picture), currently responsible for the Polyolefin Business and Innovation, has been appointed as CEO effective July 2, 2018. With this appointment, the supervisory board recognises Alfred Stern's strong contribution to the success of Borealis, which provides the foundation for Alfred, together with his executive management team to drive Borealis through the next growth wave.
Mark Garrett joined Borealis in 2007, taking over a company in the final stages of a successful scrap and build programme in Europe. The 11 years of Mark Garrett's tenure represented a significant phase of growth and geographic expansion for the company with both volumes and net profits tripling, with net profits reaching 1.1 billion euros, in 2017. Over the time there were many significant projects including the very successful joint venture mega projects Borouge 2 and Borouge 3 that resulted in Borouge's capacity growing from 0.6 million tons to 4.5 million tons. However, Garrett regards Borealis' performance at the depths of the global financial crisis as a true highlight where the whole western petrochemical industry incurred multibillion dollar losses whilst Borealis managed to record a small net profit of 38 million euros. In 2016-2017 Garrett initiated the next growth phase for Borealis by filling the pipeline with major investment projects like the joint venture with Total and Nova Chemicals in Texas (USA), the plant in Kallo, Belgium and the further extension of Borouge.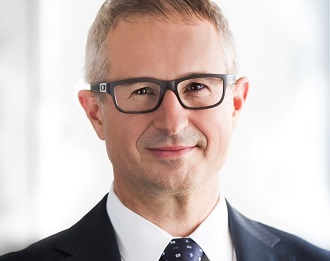 At the same time, the supervisory board appoints Alfred Stern, executive vice president for the polyolefin business, as successor. He led a strategy redirection of the polyolefin business to drive growth focussing on value creation through innovation and expansion into new global regions resulting in record profitability of the business. Since 2016, Stern has advanced the strategy reorientation towards the circular economy, focussing on developing solutions to remove barriers to higher recycling rates (design for recyclability). One major step in this effort was the acquisition and capacity expansion of mtm Plastics in Germany in 2017, a mechanical plastics recycler.
Alfred Stern joined Borealis in 2008 as senior vice president Innovation & Technology, coming from DuPont where he held several international leadership positions. He was promoted to the executive board of Borealis in July 2012.
Back to previous page