FIVE NEW PRODUCT INNOVATIONS FOR VEHICLES AND ARCHITECTURE
"Transforming for you"
With this motto, Avery Dennison Graphics Solutions Europe revealed five innovative products at Fespa 2017 (Hamburg, May 8-12). This year's stand showed the new digital wrapping series, MPI 1105, together with a range of other vehicle and architectural solutions. These include 5600 LD Translucent Films, an outdoor high opacity film that covers existing graphics, Facade Film for building decoration, and 18 new Supreme Wrapping Film colours.
The new MPI 1105 wrapping series will be one of the new products taking centre stage, as a wrapping solution that delivers outstanding printability, image quality and 3D conformability. Benchmark testing of the material by six independent applicators reveals that installation is more than 17% faster than common alternatives, and that MPI 1105 is significantly more conformable, slideable and repositionable. Printed durability of up to 6 years and clean long-term removability are among the benefits offered by the new film.
Huber Rigon from HR Design, Italy, said: "I am very impressed with the new MPI 1105 Easy Apply RS. It really stretches into deep corrugations, and can be repositioned several times, the Easy Apply RS adhesive copes perfectly. Print quality is great and confirms the MPI 1105 series in its place at the highest level in digital media".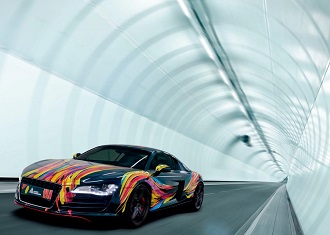 18 new colours for the popular Avery Dennison Supreme Wrapping Film was also revealed at the show, expanding the premium vehicle wrap range to more than 100 colours. Oliver Guenther, marketing director, Avery Dennison Graphics Solutions Europe said that architecture is also firmly on the agenda with the new Facade Film and the new translucent films for LED lights: "We are releasing more and more materials designed to create truly different internal and external looks for buildings, and this year's show will give installers an important insight into how options such as textured finishes can be used to set their offering apart from the competition".
Back to previous page