Open house at Ripress
Three days devoted to a new technological style
From October 5 to 7, Ripress, at its facilities in Nova Milanese (Monza Brianza, Italy), presented the GB range of electric injection moulding machines built by South Korean manufacturer Dongshin, for which it is the sole distributor in Italy. These are fully electric machines designed for rapid moulding, mainly of packaging, although they are also suitable for more technical applications. At the event, Ripress also provided an update on the situation as regards its partnership with Dongshin, which began around a year ago and was officially announced at K 2016. Since January 2017, the collaboration has resulted in the sale of six injection machines, three of which have already been installed and are fully operational.
Precisely because they are designed for moulding operations that, at their maximum rates, reach cycle times of 2.2–2.3 seconds, GB machines maximise energy savings through independent control of each motor. Compared with hydraulic machines of comparable size, the energy savings they allow are in the order of 70%, with water savings of 80%, thanks to the absence of oil cooling. The overlapping of all the movements and the improved efficiency together result in an around 20% increase in production.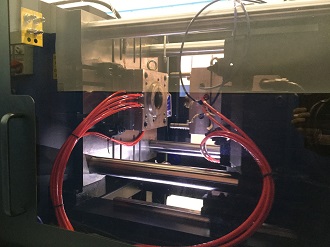 Clamping unit
From a structural point of view, the machine has a highly rigid five-point toggle-joint clamping unit featuring a compact and rational design optimised through the FEM method. The transducer that detects the clamping force ensures accurate control and real-time monitoring to prevent situations that could potentially damage the tiebars. The floating platen is mounted on linear guides without bushings, so as to minimise the friction and improve performance during acceleration. During this phase, pressure and speed control is guaranteed by a load cell, allowing positioning repeatability. Mould thickness adjustment is achieved by means of gears, with an encoder ensuring high precision, reduced noise and fully automatic operation. The free tiebars, having no bushings and no need for lubrication, are subject to less friction and do not present wear, and they contribute to reduced consumption levels and improved speed. The in-built crosshead support increases the life of the machine, by reducing loading on the tiebars. All this amounts to an ideal structure for double, or "sandwich", moulds.
Injection unit
The coaxial injection unit is precise, stable and rigid, while the dual motor ensures that the machine achieves the high speeds required. The gear motors are the torque type and the screw rotation has been simplified to allow optimal processing. Nozzle movement occurs by means of an electric motor (fully electric version), hydraulic actuators or the EHA (electro hydraulic actuator) system.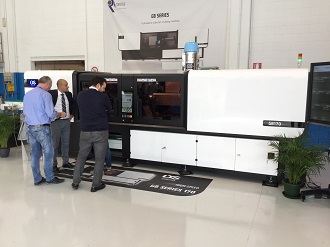 Non-deformable bed
The clamping system incorporating a non-deformable bed lends stiffness to the structure, keeping it stable under loading conditions, and therefore allowing to the machine to operate with precision during injection and mould blocking. This structural rigidity translates into a reduction of deformations, which in turn cuts vibrations by over 50%, and thus extends the life of the mechanical parts and moulds. All this also reduces the transfer of flexural forces to the moulds, ensuring correct balancing, parallelism and alignment of the same and thus a reduction of costs related to their maintenance, as well as preventing wear of the centering pins.
During the open house event, a machine was in action, moulding greenhouse plant pots in regenerated polypropylene at a cycle time of 3.2 sec and using a single-cavity mould.
Back to previous page