B&R
Thirty years of growth in Italy
Three decades have passed since a far-sighted Austrian engineering company specialising in control electronics and industrial automation systems, decided to invest in Italy. Over these thirty years, what began as a dynamic group of just three people has grown to almost 100 employees, making the Italian market the second largest for B&R in terms of global revenues.
To rightfully celebrate these first thirty years in Italy, on 4th October the company organized an event for the technical press at its offices in Passirana di Rho, on the outskirts of Milan. The main hosts for the event were marketing & communications manager, Nicoletta Ghironi, and CEO Luca Galluzzi. After sharing some interesting anecdotes about B&R's history in Italy, Galluzzi said: "The ability to meet - and in most cases, anticipate - the industry's needs with state-of-the-art products and wholly integrated solutions has, without question, played an important role in growth in Italy. The philosophy of interconnectedness and integration have also been determining, promoted systematically by B&R and today greatly relevant to smart manufacturing and Italy's Industry 4.0 Plan. This vision has always motivated and guided technological development at B&R, giving the OEMs and the manufacturing industry competitive advantages over their markets."
"In addition to technology, fuelling the 'orange colour' to spread and earn shares on the Italian market year after year, are our reactivity and in-depth competence in every company role," Galluzzi continued. "At every occasion, from the first commercial encounter, to specialist training, technical support, application development, after-sales services, market and related communications, for B&R people, the goal is always to sustain and best support the specific needs of companies.
Making the difference is the B&R team, who put passion into their work and pay attention to their clients, going above and beyond a basic professional relationship. All this translates into long-lasting partnerships with clients, who at every turn know they have someone willing and able to help them, with competence and the support of a global network of people with experience in different industrial sectors."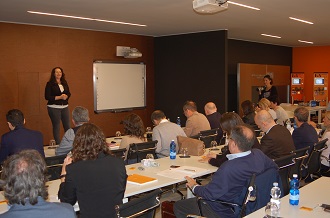 Responding to some questions from the journalists in attendance, Luca Galluzzi then focused on B&R's new course, which, starting 6th July 2017, has become a business unit of the ABB group, which operates in more than 100 countries and employs approximately 132,000 people. "The owners and founders of the Austrian company did everything in their power for ABB to keep the B&R brand for a long time to come, and for nothing to change in our internal organisation," Galluzzi confirmed. "It has also already been demonstrated that the companies do not have overlapping products, but, on the contrary, B&R systems fill a gap in ABB's range in the field of machinery automation and production process. Lastly, some synergies have already been developed to be able to provide, for example, complete systems based on large-size ABB electrical motors (not present in the B&R portfolio) and B&R components for automation."
The B&R brand therefore remains an undisputed reference point in the field of industrial automation. The company combines state-of-the-art technology and advanced engineering to provide companies, in every industrial sector, with complete solutions for machine and factory automation, motion control, human-machine interface, and integrated safety technology.
B&R could not have become what it is today without having been able to rely on dynamic and solid Italian companies that are capable of creating machines that both compete and dominate on the global market, offering impeccable performance and the ability to create innovative solutions in response to evolving market demands. Nicoletta Ghironi states: "We are well aware that our success is thanks to them, and it is for this reason that we wanted to have them alongside us, at this time of celebration, so that they also have the opportunity to describe this slice of the history of automation that concerns us. It is therefore a privilege for us to be able to count on the presence of both individuals and companies that have experienced these first 30 years of B&R in Italy with us first hand."
At the conference there were no less than nine partners of B&R who told of their experience with "orange automation" (in alphabetical order). The first to take the stage was Angelo Accossato, managing director and CEO of Coproget, a company based in Grugliasco (Turin), and specialized in the design and construction of special mechanical equipment and automatic plants for cold sheet processing: stretch/bending plants, profiling lines, cutting/ drilling/ forming lines, traditional/ transfer/ progressive moulds.
While the next guest, Alessando Mancin, is the owner of Mancin Automazioni, of Piscina (Turin), a company which has over 20 years of experience in the development of applied software and electric systems for the mechanical, chemical, nautical, food and home automation sectors. The company is particularly focused on research into new technology in order to achieve greater energy savings and eco-friendly solutions.
Angelo Nicoletti, country manager Italy of Datalogic Automation, then went on to explain how, thanks also to its partnership with B&R, it has succeeded in becoming one of the world market leaders in automatic data acquisition and process automation. The company, which is located near Bologna, specialises in the design and production of bar code readers, mobile computers, recording, measurement and safety sensors, as well as laser vision and marking systems.
Elettrosystem was established in 1980 and is involved in the design and development of technological assembly and testing systems; the company is based in Scurzolengo (Asti), and is one of the leading industrial automation suppliers. The spokesman for the company on this occasion was the chief information officer & controller Daniele Buttaci.
Then it was the turn of Tiziano Valli, the purchase office manager of Fedegari Autoclavi (Albuzzano, Pavia), the company is part of an international industrial group, the strategic objective of which is the supply of machines, systems, components and services in the field of sterilization, chemical bio-decontamination and environmental contamination control for the pharmaceutical, biotechnological and food industries.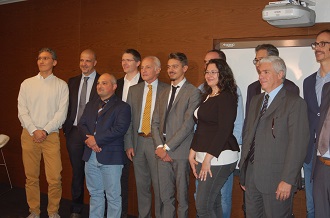 But B&R is not the only company to celebrate its anniversary this year. Moss is also celebrating 50 years in the business, as explained by its electronic department manager, Andrea Capiluppi. The company having been founded in 1967 with a clear corporate goal: the manufacturing of offset and silk-screen printing machines for the decoration of plastic objects and containers: from which the company name Moss is derived (Macchine Offset (&) Silk – Screen). However the company's production range has expanded through time and has also extended to hot printing machines, and multi-purpose machines for tubes and buckets, as well as digital printing machines.
Ocme was established in 1954 and is a leading company in the design and production of packaging machinery. The company is based in Parma and has been operating on a global level for the past sixty years. It provides packaging solutions for the packing of high quality consumer goods, and its corporate strategy is focused on ongoing technological innovation. The history of its partnership with B&R has been told by Gabriele Folli, Ocme communication manager.
Then followed the intervention of Nicola Bazzoni, automation & electrical project manager of Sidel, a company based in Parma and a world leader in the supply of low environmental impact solutions in the field of PET, glass and aluminium packaging of food and liquids for the food industry such as water, fizzy drinks, milk, sensitive products, food oils, and alcoholic drinks. Involving complete lines that go from packaging to blowing, through the entire production chain, right down to the final pallet loading stage.
Uteco Converting, with head office in Colognola ai Colli (Verona), is a leading producer of printing machines focused on a wide range of applications in the flexible packaging field, as outlined by its electronic development manager, Mauro Cattaruzza. Uteco provides innovative solutions with a vast range of machines for flexographic printing and lamination rotogravure; it also produces high-tech machines with special configurations, and is always focused on ongoing research and innovation.
Finally, Giovanni Morandi, of the sales department of WM Wrapping Machinery, described his company located in Canton Ticino (Switzerland) and which has since 1981 been involved in the design and construction of thermoforming machines, as well as complete in-line systems with relative extrusion sets since 1992. The highly qualified technical team of WM is involved in ongoing processing improvement as well as experiments in order to assure highly advanced technological solutions, the ultimate goal being that of meeting the specific needs of each individual user.
This B&R event to celebrate its thirty years of Italian operation, ended with an opportunity for networking, and a guided tour to the very interesting historic Alfa Romeo
museum in Arese.
Back to previous page