Baruffaldi's know-how at the service of the health emergency
The surgical face masks for Romagna are made in Fusignano
The evolution of Baruffaldi Plastic Technology know-how has led to the construction of the MM100 automatic line for the production of surgical face masks, the first model of which will be ready in June and will be delivered to Codice, a company which, just like the manufacturer, has its headquarters in Fusignano (Ravenna, Italy).
"We decided to apply our technical knowledge to the needs of this hard and difficult period, keeping low the costs of the finished product thanks to a high productivity machine", explains the CEO Alberto Dosi.
With this new line it is possible to produce 100-120 surgical masks in nonwoven fabric (NWF) per minute. These masks have three layers: the external one in Spunbond NWF gives mechanical resistance to the mask, the intermediate one in Meltblown NWF works as a filter, and the internal one, also in Spunbond NWF, protects the face. These three layers are welded by means of an exclusive ultrasonic welding system. In this way, the mask ensures a good air permeability and an excellent filtration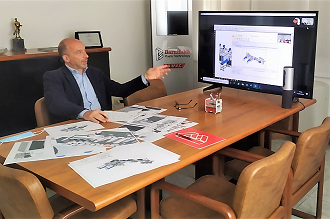 of pathogens and dust, according to the surgical norms and technical requirements, while remaining soft and comfortable.
Developed in smart working in a record time and built in compliance with all the safety requirements provided by the Italian Government for manufacturing activities, the line immediately became part of the Baruffaldi Plastic Technology's catalogue. The company was already present in the biomedical field, for example with lines for the production of ventilator tubes.
Back to previous page