Injection moulding machines for thermoplastics and elastomers
The advent of special machines made in China
Around four months after the Plast 2018 fair (held at the FieraMilano exhibition centre from May 29 to June 1), the MacPlas editors met with Davide Bonfadini, sales director of IMG, to take stock of the company's progress in a year - 2017 - that turned out to be very positive both for the Haitian thermoplastic injection moulding machines (of which IMG is sole distributor for Italy), and for the elastomer processing machines designed and built, in house by this Brescia-based manufacturer. There are various technological developments to report on both fronts, also exhibited at Fakuma 2018 in Friedrichshafen, from October 16 to 20.
But, to take one issue at a time, and respecting the sequence of the questions put to Bonfadini, we start with a look at IMG's market performance.

First of all, could you tell us how IMG did in 2017 in terms of turnover and sales?
"2017 was an important year for IMG. Indeed, we ended it with a turnover of 45 million euros, an approximately 30% increase on the previous year; and this is on top of the already considerable +15% achieved in 2016 in comparison with 2015. We can therefore say that IMG is growing strongly.
Last year was an excellent one in terms of production and sales of IMG machines: in the course of the year, we installed as many as 150 rubber injection moulding machines and/or special machines, mainly in Italy, generating a total of about 20 million euros. It was also a great year for us as the distributor of Haitian machines, we sold 310 machines on the Italian market, earning around 25 million euros".

Do you think that the current year will also close positively?
"2018 got off to a good start, and I therefore expect us to close the year with a turnover similar to that recorded in 2017, or perhaps slightly higher.
Given the excellent performances we have been recording in recent years, it is perhaps unrealistic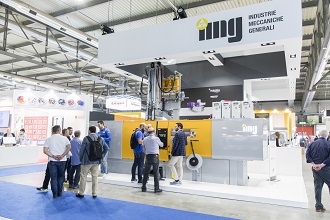 to expect further growth; I therefore think it is more reasonable to assume that this year will see us consolidating our position, with a turnover similar to last year's. And that alone, for us here at IMG, would be a hugely important result, amounting to an endorsement of all the good work we have done up to now".

What are the main technical advances you presented at Plast 2018?
"As is traditional, we had two stands at the fair in Milan: one, as Haitian, in Hall 24, devoted to plastic moulding, and the other, as IMG, within the satellite show Rubber 2018 (Hall 11).
As Haitian, we exhibited, first of all, two machines (a standard version and an Eco version) of the bestselling Mars series, of which there are now 150,000 machines installed worldwide. In particular, the Eco version, which we mainly recommend to moulders, is a servo-assisted hydraulic machine with toggle-joint clamping system. Indeed, it is equipped with a DC motor with gear pump, which allows the machine to work at a low engine rpm, and therefore to consume less power. Haitian has been producing the Mars series since 2008, but it is evolving all the time and has now reached its third generation: the Mars II S.
We also exhibited two models (120-ton and 450-ton versions) from the hybrid Zeries series, which is characterised by electric drives, with just two "hydraulic exceptions". With over 400 models installed in Italy in the only three years since its launch, the important advantages of this series are already well known, namely its overlapping movements, greater extraction force, absolute precision, lower energy consumption and application flexibility.
A two-platen servo-assisted hydraulic Jupiter II press was also on display; this was equipped with a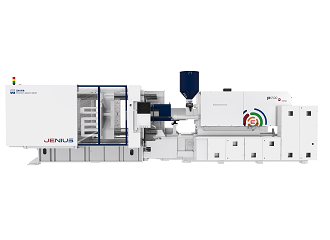 Cartesian three-axis robot (a Success 22 Haitian by Sepro), which was being presented for the first time in Italy following the start of the company's collaboration with the French manufacturer Sepro.
Still with regard to thermoplastics moulding machines, we also displayed an image of the brand new Zhafir JE (where JE stands for Jenius): a two-platen press featuring an electric injection unit "borrowed" from the aforementioned Zeres series. The hybrid Zhafir JE can be considered to represent the "perfect marriage" between Zeres and Jupiter, whose best features have been combined to guarantee really high performances.
Thanks to an innovative modular concept, it has proved possible to combine the "fully electric" solution and the servo-hydraulic two-platen system in an efficient way, retaining the advantages of each. Haitian developed this concept by drawing on the longstanding application experience it has built up with its customers, and monitoring particularly closely the trends in injection moulding technologies for medium- and high-tonnage machines, especially for the white goods and automotive industries. Haitian previously chose the Chinaplas fair in Shanghai as the stage for the world preview of Zhafir JE, before then exhibiting it at the NPE fair in Orlando.
As IMG, we went to Plast with, first of all, our signature product: I am talking about GUM, which features horizontal Hydroblock clamping system and a punching screw-type injection unit, and is used for moulding seals. We exhibited a completely servo-assisted version with additional electric movements.
We also presented a NEK swan-neck tiebarless press and featuring a two-piston vertical clamping system and vertical injection unit with a punching screw. This machine was used to mould spinners in EPDM, which we distributed during the fair; for this purpose, we used a two-cavity mould and a Kawasaki anthropomorphic robot to load the 12 inserts.
Last, but certainly not least, Plast 2018 also provided us, as IMG, with the opportunity to present the fully electric toggle clamping device that we have spent the past two years or so designing and "field testing". We plan to offer it for all our elastomer injection moulding machines, because in this sector too there is a growing tendency to prefer electric machines to hydraulic ones.
Indeed, a number of our customers need fast and more productive processes in order to keep abreast of the fierce foreign competition. The raw materials producers have already tried to accommodate them in this sense, by developing new elastomers with shorter vulcanisation times than in the past, but if we really want to reduce cycle times, we also need to see machines featuring electric (and overlapping) movements. Through the solution developed by IMG, it is possible to increase the repeatability, accuracy and speed of the movements, thereby helping to improve the overall performance of the press".

Which machines will you be showing at Fakuma 2018 and what are their main features?
"IMG doesn't have a stand of its own at Fakuma (Friedrichshafen, October 16-20, 2018), but our entire staff is available at the Haitian International stand there (1101, in Hall A1), lending their full support to the parent company.
On that occasion, in addition to a new generation Mars II S, the very latest hybrid Zeres for bi-injection moulding is on show, in what will be its European market unveiling. Visitors to Fakuma will therefore be able to watch the Zeres live in various applications, working with two injection units (the second positioned vertically on the fixed platen).
In fact, as a final remark, I would like to make it very clear that the launch of this new press is part of a broader corporate strategy being pursued by Haitian, which aims to acquire market shares also in the field of special machines, in which so far it has not been present. Indeed, the company is ready to enter this market segment in Europe, too".
Back to previous page