Anniversary of Wittmann-Battenfeld
Ten years together dedicated to the expansion and the technological innovation
On June 13 and 14 more than 1,000 operators, especially from Germany and Poland, and journalists representing the most important technical magazines worldwide, grouped together to celebrate the 10th anniversary of the partnership between Wittmann and Battenfeld at the Kottingbrunn (Austria) headquarters, recently expanded of 2,200 square meters.
Thanks to Werner Wittmann and Georg Tinschert, CEO of the injection moulding division, guests had the opportunity to experience the company's expertise first-hand with 14 machines from the PowerSeries demonstrating interesting processes and applications. The exhibition program rounded off with numerous novelties from the range of Wittmann robots and peripherals. The integration of Battenfeld Kunststofftechnik into the Wittmann Group 10 years ago was the starting point for the revision and new development of the company's entire range of machines.
A machine portfolio was developed under the brand name PowerSeries, which is now the market leader in terms of energy efficiency. Other important features of the PowerSeries are ultimate precision and repeatability from one shot to the next, compactness, flexibility and user-friendliness of the machines.
In the course of the guided company tours, visitors had the opportunity to see PowerSeries, including the prototype of the new VPower, the company's vertical machine in the latest PowerSeries design. On display there was a VPower 160/750 with a rotary table 1600 mm in diameter and with a servo-electric drive. Another novelty presented by WIttmann-Battenfeld was the 500-ton version of the high-speed EcoPower Xpress, an EcoPower Xpress 500/3300+, on which a 2.8 liter bucket is manufactured with a 4-cavity mold supplied by Abate, Italy, using IML technology from Wittmann. MacroPower line deserves also a special mention; it includes a servo-electric rotary disc with a diameter of 2,000 mm. Wittmann is also investing a lot on 4.0 Industry that permits a connection between injection moulding machines and the robot and all peripherals.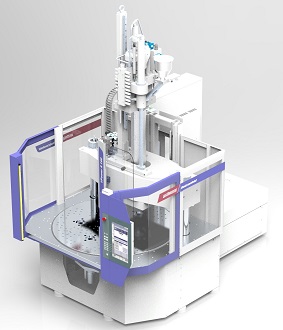 Moreover, the production capacities at the robot manufacturing plants were extended substantially during the last two years, due to the high demand. Indeed a total record of 5,000 robots have been shipped from the four existing robot plants of the Wittmann Group in Europe, China and the USA. Parallel to the increased demand for standard robots, the demand for automation solutions has also grown.
During the press conference, as regards the most important increasing markets, Georg Tinschert mentioned Mexico, that is the third one in order of importance, Italy, that is constantly increasing, especially regarding 4.0 Industry, the Czech Republic, where a lot of investments are taking place, especially about automation systems, France, where a new subsidiary is going to be realized, and Hungary. Finally, Georg Tinschert remarked that in 2017 the Group registered a turnover of 403 million euros, corresponding to +7% compared to 2016, with 2,300 employees worldwide, and orders have been confirmed for all 2018.
Back to previous page