Electric machine
Sustainable blow moulding of bottles
At Plast 2018, Plastiblow displayed a double-head, single-carriage electric blow moulding machine configured to produce five-litre bottles with handles using a two-cavity mould. The model PB15ES-700 offers accessibility of all the components and fast and easy article changes.
Visitors also had the opportunity to see a PB30ES-750, an electric blow moulding machine, with high-efficiency mould, used for the production of 20-litre polyethylene stackable tanks with clear strips. They could do so either at the company's headquarters in Corsico (Milan) - the company offered guided visits and a shuttle service - or via webcam at the company's stand at the fair. Furthermore, this machine was equipped with two post-cooling stations and a parison wall distribution system (PWDS), ensuring optimal wall thickness distribution and extremely fast cycles.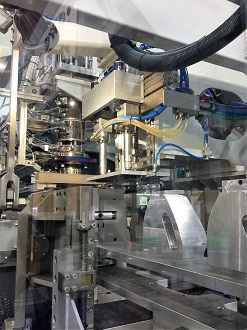 The fieldbus architecture with distributed intelligence, for the connection of the various electronic components, allows digital transmission of signals with maximum reliability and at maximum transmission speed, as well as precise synchronisation of electrically driven axes and accurate system diagnostics and supervision in real time. The machine has a module making it possible to recover the kinetic energy of the carriages in the deceleration phase and transform it into electricity which is fed back to the machine.
The technical solutions (covered by several patents) used to obtain energy-saving servo-driven movements have always been a feature of Plastiblow machines, and they place this Milan-based manufacturer's machines among the ones, in the blow-moulding sector, boasting the lowest energy consumption levels. The head design ensures excellent control of the parison in the extrusion phase and it has been optimised to allow rapid colour changes. The control panel is equipped with an integrated device for checking the quality of the flacons, allowing detection and rejection of defective products.
Back to previous page