Saip combined plant at Isopan East
Sandwich panels with dual core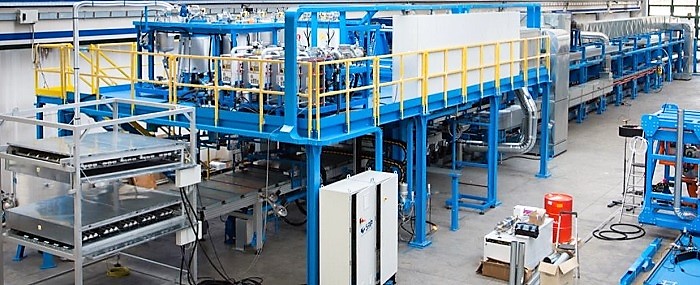 One of Saip's best long-standing customer, Isopan, is one of the largest global manufacturer of insulated metal panels for residential, industrial, commercial, livestock buildings and temperature-controlled environments. The production units are located in Italy, Spain, Romania, Germany, Russia and Mexico. For the factory located in Romania, nearby Bucharest, it has invested in a new production line designed to produce insulated sandwich panels, either with PUR/PIR core or mineral-wool, aiming at satisfying the increasing demand in the South-East European markets.
The new line, in operation since January 2018, has a production capacity of around 1.6 million square metres per year and is able to meet the growing request for high-performance panels in terms of reaction and fire resistance in these markets.
Luigi Guerrini, general manager of Isopan comments: "Most of this line innovation will allow the diversification of polyurethane sandwich panels and mineral wool range with the increase of about 50% in the production capacity. The result will be a faster feedback to the market's demands and thus, a reduction of the delivery time of orders".
Isopan production line can be defined as a combined plant, that means that it is able to produce sandwich panels both with PUR/PIR and mineral-wool core. Panels produced have length ranging from 2,000 to 15,000 mm. The new line is composed by Saip Contitech technology for what concerns the foaming section, the panel formation area and the cutting section.
Saip has equipped the line with tailored elements, such as:
- double disk cutting system: the solution which increases number of cuts, improves cut quality and implies less wearing out;
- fixed hanging head system: the solution which implies no encumbrances, pipes and rails around; the only encumbrance is the cross beam itself;
- caterpillar: a sturdy system which enables an extremely precise positioning of side blocks; moreover, it can move vertically, enabling side blocks positioning in correspondence of the polyurethane's pressure;
- overlapping system: the overlapping system is used when you have a large surface to cover and, instead of a unique panel, you choose to use two or more panels overlaying each other; there are several methods to make the overlapping between two panels; the one specially designed by Saip for Isopan exceeds the limits of traditional methodologies allowing the following advantages: less waste material; power consumption reduction; lower labour costs; better panel finishing; the overlapping system can also contribute to overcome problems and restrictions of rules and regulations related to transportation of large material;
- endlapping system: the endlapping system is used to create a foam-free zone, close to the eaves area.
Back to previous page