Wittmann launches the G-Max 23 granulator
Recycling of sprues and runners at low energy consumption
The G-Max 23 is the latest model in a series of flexible, custom-made and belt-driven compact granulators. The G-Max 23 is specifically designed for the closed-loop recycling of sprues/runners from injection moulding machines with up to 240 tons of clamping force. It is a portable piece of equipment which allows for great versatility and can be moved easily from one moulding machine to another. This granulator operates with low energy consumption. With the G-Max 23, a granulating throughput of 80 kg/h is made possible.
In common with other models of the G-Max series, the G-Max 23 allows a new way of working: A remote control replaces the fixed electrical control panel usually used on granulators. This new functionality allows for standard functions that are not available with traditional granulator design. An interface enables full communication with the injection moulding machine. As an option, a special shutdown-function is available: When the injection moulding machine is "off", the granulator stops automatically, helping save energy.
The G-Max 23 is also equipped with a hybrid rotor (open and staggered) consisting of 3 × 2 knives with open spaces between the rotating knives and the centre of the shaft.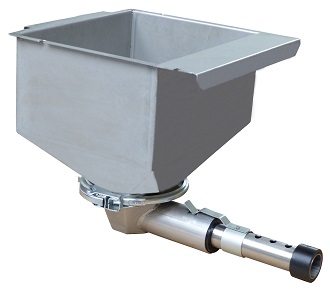 This provides unrestricted air-flow through the large 310 × 235 mm cutting chamber - thus cooling hot materials. Consequently the G-Max is ideal for granulating heat-sensitive resins or feedstock that is still warm from processing. In addition, the slanted knives improve the cutting process of thick parts, biting into them from different angles. The rotating knives can be sharpened with ease, and are also individually adjustable. This leads to optimal knife gaps that minimize dust and achieve a great overall regrind quality.
The granulator's regrind collection bin is made of stainless steel. The bin's capacity of 13 liters reduces the need for regrind storage area beside the press.
Back to previous page