A lot of Gefran at K 2019
Product innovation and new corporate identity
The Italian company specialised in the design and production of systems and components for automation and control of industrial processes, Gefran, attended the K trade fair in Düsseldorf with numerous product innovations, designed to answer even more effectively to the needs of machine builders, system integrators and end users in the sector. The fair was also a showcase of excellence to present the new corporate identity of the Group.
Among the solutions on show, Gefran presented a preview of the new Melt pressure sensors with digital output IO-Link version 1.1, specifically designed to meet the needs of connectivity, factory data acquisition, monitoring and predictive maintenance, typical of the industry 4.0. A complete family certified PLd and SIL2, which guarantees constant, high and repeatable quality of the product and the best sustainability Gefran developed fluid free sensors or that use NaK transmission fluids or oil to reduce carbon footprint.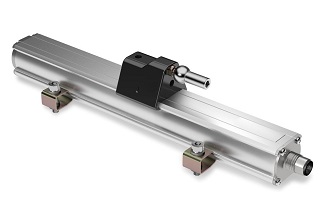 On show also Gefran's renewed range of Melt pressure sensors dedicated to polymer extrusion which include the KE series with NaK transmission fluid and the Melt Gefran pressure transmitters of the HIX series (Hart - Impact- Atex) without filling fluid. The latter are used in high temperature environments and applications in potentially explosive atmospheres by virtue of ATEX certification and the SIL2 and PLc certification.
The event was also an occasion to present the new position sensor with magnetostrictive technology Hyperwave, a range certified cULus ideal where maximum precision and repeatability of measurement is required. The amplification of the primary element signal, 15 times higher than traditional models, makes the non-contact transducer immune to the typical electromagnetic fields present in industry. The longer service life, together with the absence of maintenance, is one of the strengths of the new Gefran solution compared to traditional measuring systems, with a significant reduction of machine downtimes.
Two innovations by Sensormate, a company of the Group active in the development, production and sale of industrial sensors, also stand out: the Inspectmate App for QE1008-W and the new WLC Sensormate load cells. In detail, Sensormate QE1008-W consists of a new suite of software and a renewed hardware to further improve and simplify the use of the deformation sensor with magnetic mounting. The QE1008-W system is now completely wireless, to respond effectively to the needs of smart factories. The new WLC Sensormate load cells are wireless sensors designed for measuring the counter-thrust force of the injector. The new generation wireless load cell WLC is characterized by the absence of electrical connection between the injector and the reader and, to ensure maximum accuracy, it is designed for mounting directly behind the screw.
"K has been a fundamental moment to get in touch with those who are looking for a reference point in the plastics market and to share the benefits of Gefran solutions and applications of our technology. The K was also a turning point for the Group, which has illustrated its new Corporate Identity" states Alberto Bartoli, Chief Executive Officer of Gefran who continues "GEFRAN WAY is the essence of the company, a way of being, thinking, producing and living a responsible future, building industrial value and innovation." And concludes "K was also an opportunity to communicate a preview of the new payoff: Gefran, Beyond Technology, fil-rouge of the exhibition concept of the stand. A signature that underlines the company's willingness to look beyond technology while highlighting all the aspects that underpin our growth, with a perspective on the market of tomorrow."
Back to previous page