Lohmann at Plast 2018
Precision and safety in bonding and adhesion
At Plast 2018, which will take place between May 29 and June 1, 2018, in Milan, Italy, Lohmann will present its broad range of products and die-cut solutions for almost every industry, e.g. the consumer goods and electronics, building and construction, medical, transportation or graphics branch.
The "Bonding Engineers" will show how their holistic "Smart Bonding Approach" may be applied to find innovative adhesive solutions. A special focus will lie on the presentation of the Lohmann value chain, meaning that the company offers customized solutions from the global specification work and individual product development through to on-site mechanical integration of the adhesive solution. The Bonding Engineers of Lohmann work in the above-mentioned five different market segments to be able to provide these individual requirements. At Plast 2018, the main focus will lie on consumer goods and electronics. Continuous innovations in design, functionality and efficiency define this market segment. This is where Lohmann comes into play. The innovative adhesive bonds are the solution for the customer's individual and innovative design ideas. Lohmann products are real all-rounders that combine a wide variety of functions. For example, the high-end adhesive tapes enable the production of individual and functional keypads, efficient refrigerator seals and provide an undreamed-of freedom in furniture design.
In many applications, high tech adhesives have overtaken conventional rivet, weld and screw solutions as the bonding technology of choice. Since the active use of adhesive technology is becoming a rapidly growing trend, it is up to Lohmann to react to this. The advantages of adhesive technology are clear: it is light, clean and above all safe. Thanks to the precise adhesive strength, individual components are bonded efficiently and with unprecedented accuracy, ensuring customers receive the best possible solutions. Founded in 1851, Lohmann is one of the pioneering forces in adhesive tape technology and is now active on a global scale. The Adhesive Tape Group is headquartered in Neuwied, Germany. The company now has over 1,800 employees worldwide, 29 international sites, and exclusive sales partners in over 50 countries all around the world. And because quality is never an option, Lohmann also provides certified services. Tried-and-tested quality is at the very heart of the corporate policy. Continuous inspections allow Lohmann to optimize the processes and ensures the finest products.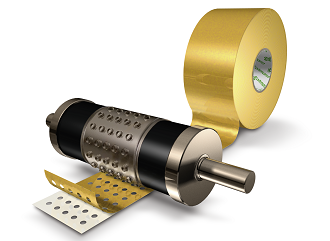 Some of these are the Structural Bonding Films (SBF). Within the DuploTEC SBF series Lohmann distinguishes between three different technologies that are referred to as Topaz, Onyx and Amber. All bonding films in this series are thermally activated, but differ - depending on requirements - in their performance. Topaz technology represents bonding films that are activated at low temperatures and are thus suitable for quick adhesion. This technology combines high adhesive strength and flexibility with a fast process. Onyx technology is suitable for processes that require extreme adhesive strength and high stability. In addition, it combines the advantages of pressure-sensitive adhesion with those of structural bonding.
If temperature-sensitive components - for example, on basis of elastomers - have to be joined quickly and reliably, then Amber technology is the right answer. The Amber products become activated at ambient temperature and offer very high initial adhesive strength. All in all, at Plast 2018, the experts of Lohmann will present a wide range of products and die-cuts for various industries and will gladly provide information and be available for more intensive discussions.
Back to previous page