NDC Technologies debuts at Plast
Precise measurement and control in the Industry 4.0 era
NDC Technologies, a leading global provider of precision measurement and control solutions, will debut several new and innovative measurement systems at Plast 2018 ready for Industry 4.0 with data integration and connectivity down to the gauge level. Visitors to NDC and Beta LaserMike (an NDC Technologies Brand) booth will get a first-hand view of how the latest gauging solutions for plastic film, sheet, pipe and tube enable plastics manufacturers to produce higher quality products, increase productivity and realize significant production savings.
Film and sheet extrusion applications
NDC will be showcasing its latest FilmPro infrared gauge for the film, sheet and coating industries. This gauge uses advanced optical techniques to measure a wide range of film and sheet properties with high precision. NDC's modular FilmPro gauge can measure the thickness of clear, voided, pigmented, cavitated, porous, translucent coloured and even black tinted films. The measurement capability of FilmPro also extends to single- or multi-layer products including thin, biaxially-orientated films, cast films and CPE stretch films. It can simultaneously measure the individual thicknesses of up to 6 different layers in co-extruded films.
The FilmPro gauge will be demonstrated at Plast running on NDC's Mini-Trak O-Frame Scanner and Pro.Net TDi Web Gauging System platform which includes NDC's latest iView ProTM Operator Work Station (OWS).
NDC's new Low Energy X-Ray Sensor is ideally suited for thickness and basis weight measurements of light weight extruded film and sheet products and offers excellent narrow streak resolution. A highly stable, precisely tuned power supply runs at or below 5keV providing high signal-to-noise characteristics and optimum measurement performance.
NDC's new Web Surface Inspection Systems (engineered by RAM) provide 100% product coverage, enabling manufacturers to achieve zero defects. Systems include powerful capabilities to instantly detect, classify, document and record all optical defects across a broad scope of web materials.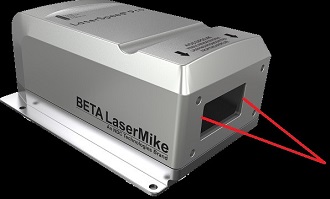 Plastic pipe and tube extrusion applications
BenchMike is one of the industry's leading off-line diameter and ovality measurement system. The new Beta LaserMike BenchMike Pro is now outfitted with a larger, higher-resolution display and provides faster communications processing. This highly accurate and reliable gauge now offers Ethernet and USB connectivity.
The new Beta LaserMike UltraScan Pro provides high-speed, precision measurement of product wall thickness and concentricity and offers faster processing and measurement capabilities, high-speed tolerance checking, multi-layer measurements (up to 4 layers), enhanced Ethernet connectivity via built-in web server and other advances. UltraScan is known industry-wide for its patented "Snap" technology with full automatic setup and calibration for quick, simple operation.
The new Beta LaserMike LaserSpeed Pro non-contact length and speed gauge offers the highest accuracy in the industry (better than ±0.03%) and the widest measurement depth of field for the full velocity range. LaserSpeed Pro offers a new, faster processing engine for faster communications and supports Ethernet connectivity. Ideal replacement for contact encoders.
Back to previous page