Analysis and forecasts for Rodolfo Comerio
Positive trend at the end of 2018, many novelties incoming in 2019
At the end of 2018, Rodolfo Comerio registered an increase in the export of its products both for the rubber and the plastics fields - contrary to the trends of the Italian machinery export for rubber and plastics machinery - marking +3% compared to the total sales volume recorded last year in the same period. This is what the manufacturer stated in a press release, explaining how 2018 started a bit slow in the design and construction of calendering lines, while the end of the year has undergone a significant surge of orders, making expectations for 2019 very optimistic, especially thanks to the launch of brand-new products.
The calendering lines by Rodolfo Comerio manufactured during the year just started will be provided with significant developments thanks to new technologies and automatic systems that will be applied above all to calendering lines for the sector of tires for cars, buses, trucks and heavy vehicles. 2018 has been an important year dedicated to the study and implementation of specific production requirements expressed by tire manufacturers worldwide. Recently, the company has also tested, at its own research centre, a calendering process for a composite plastic material that gives new properties to luxury vinyl floorings.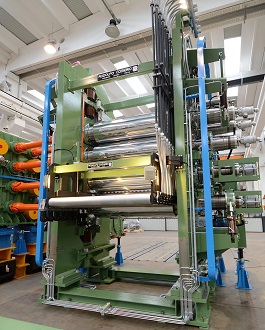 A cutting-edge system has been studied and developed by Rodolfo Comerio for the production of such flooring, that withstands the most torrid summers and the coldest winters, eliminating any unevenness of flatness and any dimensional instability. The system makes it possible to: manufacture a stiffer base layer structure to reduce flexibility; increase the resistance and cancel the deformability of the floor; achieve production heights up to 2000 mm to increase the productivity and the variety of decor printing; reduce production costs; perfect embossing in register with the printed pattern (thanks to the patents filed by the manufacturer); change the printed film pattern quickly without stopping the production.
In addition, the company is now manufacturing a brand-new two roll rubber mill, featuring a diameter of 810 mm and a length of 2700 mm, destined for rubber mixing rooms and calenders feeding. The strengths of this new mill include: easier maintenance and less space requirements, thanks to a simple structure and to the possibility of removing the rolls from the top; greater compactness of the machine layout; "amplified" lamination pressure; protection fairing on all important parts of the machine, including the stock-guide lifting system; safety opening speed of 10 mm/s; maximum roll opening of 60 mm; fully automatic shifting of the rolls; high-efficiency motors or hydraulic motors.
Back to previous page