Identiplast 2017
Plastics waste: a key component of a circular economy
IdentiPlast - the international conference on collection, sorting and recycling of plastics - provides the world's most comprehensive platform on the exchange of know-how between the plastics industry, regulators, academia and waste management practitioners from around the globe. The next edition's conference will be held on February 22 and 23, 2017, and will focus on the particular challenges presented by the circular economy to "new" European member states and other countries in the process of modernising their waste management infrastructure. Through the sharing of best practice the intent is to accelerate the drive to efficient waste management and a more circular economy.
The venue is set for Vienna which is ideally placed in bringing together EU officials and regional players in the fields of collection, sorting, recycling and recovery of plastics from Europe and the rest of the world.
Since the organisation of the first IdentiPlast conference in 1997 (Brussels), PlasticsEurope has been a leader in creating an environment for the sharing of best practice and knowledge in the management of plastics through its life cycle at capital city venues around Europe: London, Paris, Brussels, Madrid, Warsaw or Rome and for 2017 in Vienna.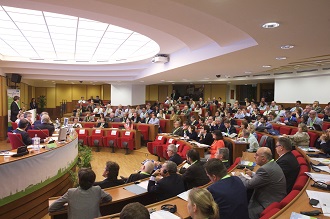 On the occasion of the next edition, it will also take place the awards ceremony named Epro Best Recycled Plastic Product Award 2017. It will enable the industry to further demonstrate their commitment and work in the area of Corporate Social Responsibility, and for the consumer to more fully understand the scope of their environmentally friendly actions.
The aim of this competition is to raise awareness and showcase the latest product innovations for recycled plastics in a growing variety of products and items. This recognises the progression in the applications of recycled plastics, and presents a real opportunity for the industry to further demonstrate their commitment to the environment and saving resources through use of recycled materials.
This year there will be 2 awards - one for best recycled produced product and the other best recycled designed product.
Back to previous page