Exponential growth, new hires and attention to the environment
Pegaso, a new industrial group looking at the world
A new holding company, called Pegaso Industries, has recently been founded to allow the coordinated management of five companies that, in less than 25 years, have succeeded in conquering the plastic processing machinery market. Indeed, 1994 was the year that saw the start of a venture that today links these five companies: the historical brand Plastic Systems, beverage packaging systems specialists PET Solutions, cooling systems manufacturer Blauwer, steel components manufacturer Steel Systems, and finally Ergomec, which makes systems for the storage, pneumatic conveyance and blending of granules and powders for the plastics, chemicals and food sectors. The holding company will also manage the overseas production facilities in China (Shanghai) and Brazil (Sao Paulo), as well as the commercial offices in India (Mumbai) and the US (Ohio). Three partners in particular have spearheaded this exponential growth: Rinaldo Piva, Gianfranco Cattapan and Michele Zanon (respectively, left, centre and right in the above photo).
The group's strategy is to combine technical expertise and design skills to build equipment according to Industry 4.0 criteria. Its headquarters in Borgoricco (near Padua, Italy) occupies a 70 thousand square metre site where a fourth plant is currently under construction. Several figures, describing the group, show that Pegaso Industries is a solid and concrete concern: a 2018 consolidated turnover of 70 million euros, 400 employees (in Italy and abroad), and planned investments worth 10 million euros over the next three years, for the further development of its business and for new takeovers, with the aim of achieving a turnover of 100 million euros.
"The Pegaso brand is now one of the global leaders of the sector, and we are not only the youngest of these, but also the only one that boasts diversified production, and can thus serve both large industrial groups and average-sized processing industries", explains president Rinaldo Piva.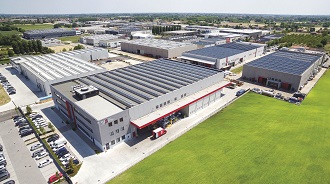 The areas coordinated by Pegaso Industries will be general administration, security and strategic marketing, as well as human resources. The latter area is characterised by a comprehensive approach to training that guarantees specific preparation and a very low staff turnover. Furthermore, over the coming months, 25 new employees (engineers and qualified technicians) will be taken on.
"In addition to standard machines, we also produce turnkey systems featuring technologically advanced solutions. We focus a great deal on energy saving and the recycling of plastic materials. Upgrades of our production lines are environmentally sustainable, too, as they mean improved performance and consumption levels", concludes Gianfranco Cattapan.
Back to previous page