Sacmi develops an advanced optical application
New perspectives for compression moulding from joint research
Demand for plastic components used in optics is growing steadily, as is demand for the development of new high-efficiency manufacturing processes applicable to mass production. Sacmi currently leads the world in moulding and compression technology, a new application of which aims to help develop optical parts such as lighting lenses, advanced instrumentation and parts for the automotive sector.
Co-developed by Sacmi, the customer Polyoptics - Germany's leading producer of plastic optical systems and components for a wide range of sectors - and German research institute KIMW, the project has yielded excellent lab samples with encouraging results in terms of both quality and process. More specifically, Sacmi technology has resulted in a process cycle time significantly shorter than alternative industrial solutions.
On lab scale, a special machine processed the special thermoplastic polymers requested for the manufacture of optical components (PMMA and PC). Various tests carried out with the KIMW research team in Lüdenscheid verified the quality of the produced samples, validating both the technology and the production process.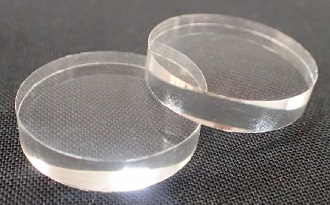 Alongside quality and efficiency, observes Polyoptics, new prospects for large scale use of the CCM in advanced optical applications have also been opened up by unique machine characteristics which allow independent control of each cavity-mould and flexible modulation of the number of cavities. Practical tests have also demonstrated that the CCM is perfectly compatible with the polymers already used by Polyoptics for traditional injection moulding applications; this provides the added advantage of being able to implement, with CCM Sacmi technology, advanced mould control functions, optimising the process according to the specific application requested.
Back to previous page