An important milestone
New headquarters for Hekuma
After fifteen months of construction, the new headquarters of Hekuma in Hallbergmoos, Germany, was completed on schedule - an important milestone in the history of the company. At the beginning of 2018 the time was right: Hekuma moved in its new headquarters and thus set an important milestone in the history of the company. The construction of the new building progressed according to plan, so that between the ground-breaking in October 2016 and the relocation lay just a period of fifteen months. According to the managing director Markus Schmidt the result was "a high-quality building in line with the company philosophy for creating high performance automation".
First considerations were already given in 2013. At the new headquarters, there was the conscious decision against a regional change. So it is located just ten kilometres from the former factories in Eching. But Hallbergmoos with the immediate proximity to the airport brings the convenience for the better accessibility.
Another big advantage is the merging of the previous locations into one central administration and factory building. Equipped with modern infrastructure, all departments are housed on approximately 4,500 square metres of office space. The office layout is arranged to allow the most efficient communication and process flows between these departments. Even the workflows in the production area can be run in a more economically way. "The architecture and floor arrangement of our company building impresses with its high functionality and appealing aesthetics. Short distances, modern equipped office and meeting rooms and an open interior design, which also provides sufficient opportunities for retreat for creative work in a quiet environment, inspire every day anew", expresses Stefan Naser, managing director of Hekuma.
A highlight is given by the customer area that includes meeting rooms, guest lounges and also a technical show room. This allows the high-performance automation specialist the opportunity to present trade show exhibits and special technical applications and to make visible first hand highest level of precision and technology to the customers.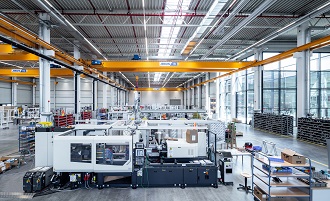 The production area of around 11,000 square metres also offers room for growth. In total, the new headquarters, with a gross floor area of around 15,500 square meters, has about one-third more capacity than before. Thus Hekuma is able to meet the increasing demand and at the same time to discover new business areas. "We do now have enough potential to grow in a healthy way and continue to be the reliable partner in high performance automation for our customers", confirms the management of the system manufacturer.
By expanding the capacities, improving the facilities and decreasing the distances, the new Hekuma headquarters stands for a worthwhile and trend-setting investment into the future.
Back to previous page