New opening in Mexico for Brenta Group
Moulds maintenance and multi-material injection moulding in Juárez
Specialised in the manufacture of complex moulds for multi-material and multi-component injection moulding, Brenta Group opened a new branch in Juárez, Mexico. "The exponential growth registered over the last few years in the automotive industry in this country, benefiting from the huge investments of auto producers worldwide, has triggered many development opportunities for highly specialised companies like ours," stated Daniele De Rosa, CEO of the Brenta Group. The know-how itself, developed in the field of mould construction, from the design stage to the final assembly, has imbued the Group with a professional competence beyond compare worldwide.
"The main objective of opening a Brenta branch in Mexico at this particular moment in history, is to support our clients with what we excel in. As the OEMs are always seeking methods that can reduce costs and complexities and boost efficiency, our clients are asking us to constantly innovate, preserving the capacity to adapt to the diverse scenarios. The creation of a highly specialised workshop that can efficiently undertake the maintenance of the moulds, also those produced by others, heads towards this direction", De Rosa added.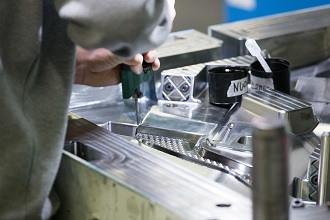 With a roofed surface area of 2,500 sq. m, the Brenta site in Juárez counts, in this start-up phase, on a half-Italian staff, and also hosts another typical production of the Italian group: multi-material injection moulding. "Our best engineers and technicians will train the Mexican employees onsite, to make them completely independent", De Rosa explained. Three years from now, the site will operate various types of injection moulding machines, ranging from mono-material to multi-material and multicomponent units.
"The light guides are the details we work on more frequently, for headlights that will then be inserted in models of big brands like Volkswagen, BMW, Mercedes, Audi, Chrysler, Fiat and many others. From Juárez we shall supply high quality plastic products, the same as the ones offered by the Italian factories of the Group", De Rosa concluded.
Back to previous page