Stratasys at Mecspe 2019
Machines and materials: novelties and previews
At the coming edition of Mecspe (March 28-30, Parma, Italy), Stratasys will showcase its latest 3D printing solutions for design and production to the Italian manufacturing industry. Visitors will see the company's latest PolyJet and FDM additive manufacturing solutions live on the stand, including the Italian premiere of new advanced elastomer materials.
Attendees to the stand will learn how customers from a range of industries are deploying Stratasys additive manufacturing across product development - from ultra-realistic concept models and fully-functional prototypes, to tooling and final part-production. These include household global manufacturers such as GKN in Florence, Lamborghini, Safilo, Airbus and Audi, as well as small-to-medium sized Italian businesses, such as Zare, Plyform and Nidek.
Ultra-realistic full-colour, multi-material prototypes
Stratasys will demonstrate how designers and engineers are maximizing the potential of the world's only multi-material, full-colour 3D printer, the Stratasys J750. Further advancing the realism of 3D printed prototypes, the company will show new material enhancements including the ability to mimic rubber and leather, as well as a new recently-launched range of vivid colours with over 500,000 colour combinations. The ability to create such highly-realistic prototypes enables teams to better meet specific design objectives, streamline iterations, and shorten time-to-market and time-to-revenue.
Visitors can also witness the Italian premiere of new TPU 92A Elastomer for Stratasys' leading FDM 3D printers, with a number of parts on display designed to meet the needs of manufacturers requiring high part elongation, superior toughness and full design freedom. Combined with its unique soluble support, the advanced material provides a superior alternative to less optimal TPU 3D printing technologies for complex geometries, and eliminates expensive and time-consuming moulding or casting methods traditionally used to produce elastomer parts.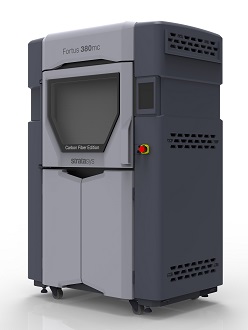 Durable, lightweight tooling and final parts
From jigs and fixtures to composite layup tools, visitors to the Stratasys stand will discover how these durable, lightweight and cost-efficient 3D printed tools are being utilized to enhance production across a range of industries. Onlookers will learn how businesses like Siemens Mobility are utilizing Stratasys FDM additive manufacturing to improve lead times per part of up to 95%. In the case of Siemens, the company is producing one-off, customized tools for the production floor on-demand, as well as 3D printing spare parts for direct and final use in vehicle interiors - transforming its entire traditional production process.
To witness FDM production technology first-hand, visitors to the booth will be able to see the Fortus 380mc Carbon Fiber Edition running live. Parts will be produced using FDM Nylon 12CF, an advanced composite material containing 35% chopped carbon-fibre and strong enough to replace metal across many applications. Stratasys will demonstrate how the impressive mechanical properties of Nylon 12CF enable engineers to explore the transition from traditional metal parts to 3D printed plastic composites.
Alongside the hardware offering on display, Stratasys will outline how GrabCAD Print offers a full-service, adaptable and streamlined design-to-part workflow. The intuitive software creates a user-friendly path between tooling CAD design and additive manufacturing that enables designers and manufacturing engineers to get professional quality 3D printed parts faster and simpler.
Back to previous page