Stratasys contest
Italian student wins the Extreme Redesign 3D Printing Challenge
The global leader in additive technology solutions, Stratasys has announced that Italian student, Paride Stella, has taken a first place spot in its annual Extreme Redesign Challenge Awards. Stella won first place in the "Art, Architecture, Jewelry and Design" category and is the only winner from Europe this year.
Stella is currently attending Gabriele D'Annunzio University in Pescara (Italy). By fusing his algorithmic design knowledge with his 3D design and printing experiences, he was able to generate ideas and solutions for computational problems arising in practical applications.
Stella commented, "I believe 3D printing is going to greatly shape our future and I agree with Stratasys' focus to provide education and awareness of the technology's benefits. Being the only European winner is a huge honour and I am proud to represent my country in such a prestigious international competition. One of my main reasons for entering the challenge was to try to showcase how the ideas I have developed during my research could translate into something tangible. Having won the award, I'm really hoping that this could initiate an interesting local debate on how 3D printing can positively support creativity in the design process".
Hosted by Stratasys and GrabCAD, the Extreme Redesign Awards challenge students to either redesign an existing product, create a new product that improves how tasks are accomplished, or design an original work of art or architecture. The submissions were thoroughly evaluated by a respected panel of renowned industry figures who stringently analysed entries based on their ability to be mechanically sound, realistically achievable and significantly creative.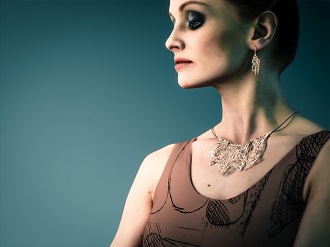 "For 14 years, our Extreme Redesign 3D Printing Challenge has highlighted the best of the best in student 3D printing innovation. Our contest empowers students to tap into 3D printing to design and create in ways previously not possible. Each year, we welcome submissions from both new and familiar faces - always innovating and always improving designs year-upon-year. And while judges were impressed by all entries, these winners truly reflect an elite level of student creativity and design", said Gina Scala, director of marketing, Global Education, Stratasys.
Stella concluded, "Today designing has changed its meaning. The possibilities of manufacturing and the tools that make it possible are endless. One of the shapes in my design was inspired by coral (Corallo), which has a very organic and delicate appearance, and can be designed and printed to incorporate aesthetic material properties. The ability to create shape complexity and variations is a key requirement for creative designers, and further underscores the value of 3D printing".
Back to previous page