Two exhibitions for Lady Be in Belgium
In Bruges, at the International Biennial of Flanders and with a solo exhibition
Paintings, sculptures, graphics, photography, video art. This is the rich programme of the works of art on view at the International Biennial of Flanders, an exhibition conceived and organized by Francesco Saverio Russo, Salvatore Russo and Sandro Serradifalco at Oud Sint Jan in Bruges from November 26 to December 1. The event puts on show the works of artists from five continents. Lady Be, whose fame has now gone beyond Italy's national borders thanks to its contemporary mosaics, composed of pieces of toys, recycled materials, cutlery, jewellery, stationery, bottle caps, all strictly in plastic, was recently honored as artist of excellence 2018.
The Italian artist will be also present in the Belgian city with a solo exhibition of 15 works at the Belfry of Bruges from 29th November to 8th December. Some of these works are still unpublished and are strongly inspired by Flemish art and from Belgium. The prestigious location underlines the international scope reached by the work of Lady Be: one of the most prominent symbols of Bruges, the medieval Belfry formerly housed the municipal treasury and archives, and served as an observation post for spotting fires and other danger for the inhabitants of the city.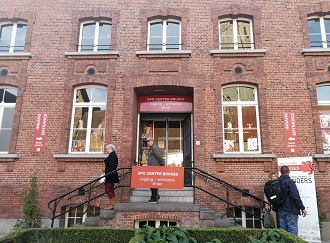 The works of Lady Be carry a loud and clear message in which anyone can be reflected, and will not leave indifferent experts and critics as well as the public. The artist recovers plastics of all kinds and, through a very personal style, interprets the icons of our time and of the past providing to all of us a medium in which to identify according to our own tastes and inclinations. By changing the intended use of plastics the artist brings the viewer to reflect on the many possibilities offered by this material and on those arising from recycling plastics and even on the environmental sustainability when the use and disposal of this material are driven by virtuous behaviour.
Back to previous page