Increased capacity
IMS Deltamatic Group moves its metalworking operations to Seriate

The metalworking operations of the IMS Deltamatic Group - the owner of brands such as Goebel IMS, Rotomac, Deltamatic and Kasper - have been recently moved to a new 9,000 sqm manufacturing plant in Seriate, near Bergamo (Italy). Due to the exponential increase in demand across all brands, IMS Deltamatic. expanded its production with the new manufacturing facility, states the company in a release.
"This move has been very ambitious and posed a challenge to all members of the IMS Deltamatic Group due to its sheer magnitude and complexity. Nonetheless, the Seriate production site is the next strategic step towards a successful future", states Daniele Vaglietti, CEO of IMS Deltamatic.
The new Seriate site houses the machine tools for the manufacturing of parts for all the machines delivered by the different divisions of the group. The new site also hosts Deltamould which has grown over 30 percent in turnover since 2015 and is now a key supplier of gravity moulds and low pressure moulds for the manufacturers of braking systems and die castings.
The move to the new Seriate production site started when all buildings were fully renovated to create modern workspaces, and ensure the highest occupational safety and sustainability standards.
The Seriate manufacturing site with its 60 employees houses different machining and dimensional inspection areas, a modern logistics and storage center, up-to-date workplaces and meeting rooms that satisfy the new needs of the company. Over 40 high-performance machine tools are installed, such as the Mikron HPM 1850 U 5-axis machining center. The state-of-the-art CNC machines, lathes, turning centers, milling centers, boring machines, etc. are supplied by Hermle, Mikron, Mazak, Alesamonti, Soraluce, DMG Mori and Doosan. Thanks to more than a dozen new cranes with capacities of up to 32 tons each, a significant loading capacity is achieved. To ensure highest quality for the entire production, the quality control department employs systems for the dimensional inspection of machine parts.
To further optimize production processes, the engineering department takes advantage of the CAM software supplied by Autodesk as well as cutting-edge 3D CAD solutions, in order to fully meet specific customers' requirements and guarantee a seamless deliver chain and reliable just-in-time production according to markets' needs.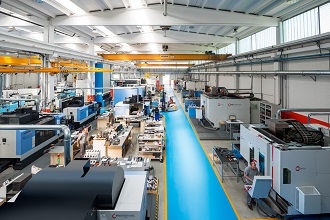 "With our new production facilities, we can now capitalize on synergies between our different business units. Through efficient allocation of skills and resources and optimized use of our machinery, we can offer outstanding quality and highest performance at the same time. With this increase in production capacity, we are expecting to expand our customer portfolio" adds Vaglietti. Thanks to an extensive floor space and storage capacity, the Seriate site not only enables highly efficient production processes today but also offers scope for the further strategic growth of the IMS Deltamatic Group in the future.
Back to previous page