The "Blue Night" event in Brescia: a huge success
IMG celebrates its first ten years as sole distributor for Haitian International
Could there possibly be a better setting for the celebrations organised to mark IMG's first ten years as sole distributor, in Italy, of Haitian injection moulding machines than Villa Piovanelli, an eighteenth-century country residence listed in the Italian register of outstanding historic houses?
The answer is no, there couldn't! And, accordingly, the large grounds and spacious but nonetheless intimate and rustic rooms of Corte Piovanelli recently provided a warm and welcoming setting, on a beautiful autumn evening (October 7), for a gala dinner that brought together, and delighted, both Chinese and Italian entrepreneurs alike.
"Given that you are more likely to find us working than celebrating, we are hugely excited by this wonderful event, and delighted to be able to share it with IMG collaborators both from Italy and from other European countries, not to mention the processors who are our customers. Last but not least, we are delighted to have with us this evening both the Haitian management team and the members of the Bonfadini family who, in 2009, first decided to launch the partnership with Haitian Plastics Machinery Group," began a clearly thrilled Barbara Ulcelli, president of IMG's board, who had the task of officially opening the celebrations.
"As Barbara has indicated, and in line with our corporate philosophy, the anniversary that we are marking this evening is a starting point and certainly not a point of arrival", added an equally delighted Davide Bonfadini, longstanding sales director of IMG, before going on to remind his audience that: "It was 2009 when we started out, and at that time the entire market was really struggling. And yet, thanks in part to the widely recognised quality of Haitian's products, and in part to the sheer determination of our team, over the past ten years we have managed to sell more than 1,500 machines in Italy. This can be considered a remarkable success, especially if you consider the huge difference between IMG, then a newly founded family-run company, and Haitian International, a giant that, even then, was offering a vast range of products: moulding machines, automation components, pumps, forklift trucks, robotics and machining centres. I have to say, though, that, from the outset, Haitian treated us as equals, and welcomed us into this huge family. And that has been a source of great satisfaction, on both a personal and a professional level."
The next to speak was Jianfeng Zhang, president of Haitian Plastics Machinery Group, who after the usual pleasantries and greetings, delivered with typical Asian courtesy, moved on to the all-important figures: "When we talk about our division devoted to injection moulding machines, we are referring to a widespread presence that covers over 130 countries and that, in 2018 alone, allowed us to build 35,000 production systems, which generated a turnover of more than one billion, five hundred million euros."
Z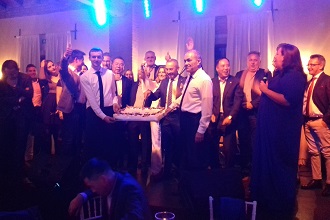 hang then turned his attention to the collaboration with IMG, underlining that: "Italy, being one of Europe's most industrialised countries, is a very important market for us, and we are well aware that it boasts a high number of small and medium-sized plastics processors, all working to very high operational and quality standards."
Continuing this train of thought, the president of Haitian Plastics Machinery then addressed the customers present in the room, assuring them that his company is continuing to pursue its well-established strategy of continuous investments, designed to increase the satisfaction of users by enhancing its machine technology and increasing, country by country, the technical assistance and consultancy on machine productivity that it provides.
"I expect us to continue growing alongside all of you, customers and friends of IMG, in order to overcome the challenges of the market and boost – reciprocally – our results," ended Zhang.
Back to previous page