Rubber Night in Brescia
IMG celebrates a record year
No less than 175 operators in the rubber processing industry took part in the event organized by IMG on the evening of November 16 in Villa Piovanelli, Brescia (Italy). The Brescia-based rubber injection moulding machine manufacturer, that is also the official distributor for Italy of Haitan machines for thermoplastics, organized the event as a way of thanking its clients for their support and accomplishments.
The sales director of IMG Davide Bonfadini went on to point out that: "This event has been organized to celebrate a particularly good year for IMG, together with its long-standing customers in the rubber sector, which as we know is a specialized niche, on a smaller family-run scale as compared to others. This is why the evening that we organized aimed to create a warm and intimate environment, as if it were a family celebration."
Following the welcome drink and dinner in the splendid Villa Piovanelli location, the evening continued with musical entertainment, headed by an exceptional guest entertainer: Jerry Calà.
Bonfadini also proudly added that : "There are many clients that have always believed in us and, after years of purchasing from our competitors, have returned their support to us. It is for this reason that we have succeeded in recovering a very important market share, and this party this evening has been a way of thanking our main clients, as this excellent result is thanks to them above all.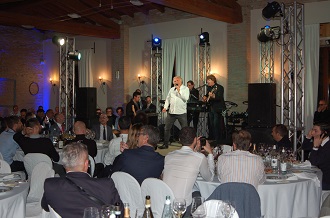 Although there were some German companies present, they were almost exclusively companies from the so-called Italian "rubber valley", with processors mainly based in the provinces of Bergamo and Brescia, the true international heart of the production of articles made of thermosetting elastomers and thermoplastics.
As we have already mentioned, it has proved a good year for both our divisions: both that
dedicated to rubber, with an impressive 150 machines sold in 2017 and manufactured
directly by IMG, as well as for the plastics division, with about 280 Haitan presses having
been sold and installed in Italy, with sales set to exceed a total of 300 machines by the end
of the year. We now hope that 2018 will prove equally successful, and thanks to
government super and hyper amortization allowances, it would appear that
this positive trend has a good chance of continuing".
Back to previous page