Vertical cooperation for three
From post consumer PET bottles to egg cups

Forward-thinking companies, Global Plastics, Hickman's Family Farms and Amut Group have started a great vertical collaboration to give to plastic a second life, avoiding post-consumer bottles to end up in landfills or in the ocean.
Global Plastics is a well-known Californian manufacturer of PET packaging made entirely from post-consumer bottles. It recycles approximately four million bottles a day, which are sorted by colour, ground and washed. The company then pelletizes the flakes and extrudes the sheet for final use in thermoforming. The entire process is performed by Amut Group machines and complies with FDA certification regulations for packaging suitable for direct food contact applications.
Hickman's Family Farms is involved in eggs extensive production and has launched into the market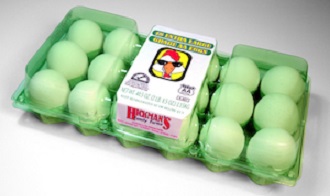 an egg container made entirely from post-consumer PET soda and water bottles. The partner for this project is Global Plastics.
This eco-friendly container takes about five bottles to make an 18-count egg pack and about three bottles to make one of 12-count egg. A 24-egg carton will be coming to shelves very soon.
Hickman's Family Farms is also starting its own in-house thermoforming business with ACF920 model branded Amut-Comi. The newly developed software named Easy extremely simplifies machine running, also for companies that begin to produce.
Back to previous page