Festive farewell for Björn Norén
Former Managing Director of Arburg Italy retired
To honour the former Managing Director of Arburg in Italy, Juliane Hehl and Gerhard Böhm had come up with something very special. In a lively dialogue, they paid tribute to the achievements of Björn Norén, who had been active for Arburg in Italy for four decades in two respects: Managing Director of Arburg in Italy and with his company Sverital, which his father founded in 1950 and which became an official Arburg trading partner as of 1960.
Four decades of active service for Arburg
Björn Norén started his career with joining Sverital in 1978. Over the years, the Italian market developed very well so that Arburg decided to open a subsidiary in 1993. Björn Norén took over the management, successfully developed and expanded Arburg in Italy and played a decisive role in making Italy the most successful market for Arburg in Europe after Germany to this day.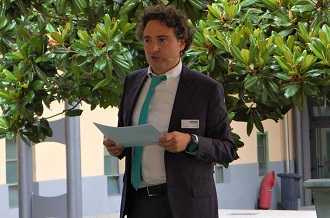 Future cooperation between Arburg and Sverital
"Björn Norén's multi-faceted qualities were among the decisive factors in this success story", emphasised Juliane Hehl. He is a born diplomat, a skilled technician, an excellent salesman, a bold visionary and blessed with a versatile linguistic talent. "He was always supported by his technically versed wife Cinzia," Gerhard Böhm added. She was always able to convince customers of the advantages of Arburg technology, showing a great deal of know-how and enthusiasm.
"We're glad that the cooperation did not end after Björn Norén went into 'Arburg retirement' at the end of 2018," the Managing Partner stressed. In early 2018, cooperation for automation solutions was contractually agreed with the family-owned company Sverital, in which Patrick and Erika Norén are now the third generation to be active. Since 2019, the Italian Arburg subsidiary is headed by Raffaele Abbruzzetti, to whom Juliane Hehl wished all the best for the future projects and challenges.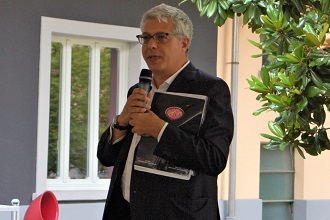 Festive event in historical surroundings
The festive evening event in honour of Björn Norén had the theme "history and modernity". The premises of the Aurora family business, now in its fifth generation, provided the perfect setting. Aurora's partnership with Arburg spans decades and began in 1989 with the purchase of the first Allrounder injection moulding machine. As a thank you for 30 years of cooperation, Arburg gifted an Allrounder 170 CMD to Aurora, which was presented together with historical and current photos during the event.
During their visit to the Aurora Museum, the guests also experienced an emotional journey through 100 years of the company's history. Some of the exhibited machines are still in use today to produce pens and fountain pens. The tour was followed by a multi-course dinner which gave the guests ample opportunity to revisit their shared experiences with Björn Norén. A video with the highlights of his career at Arburg was shown during the dinner.
Back to previous page