Basf sales and earnings grow
Bock: "The positive demand development continued in the third quarter of 2017"
Basf Group recorded significant sales and earnings growth in the third quarter of 2017. "The positive demand development continued in the third quarter of 2017. We achieved solid volume growth, even compared with the strong prior-year quarter," said Kurt Bock (in the picture below), chairman of the board of executive directors of Basf.
Basf Group sales rose by 9% compared with the prior-year quarter to 15.3 billion euros. This was primarily attributable to good volumes development as well as significantly higher sales prices in the chemicals segment. Sales were also lifted by the Chemetall business, acquired in December 2016. All segments recorded slightly negative currency effects.
The strong contribution from the chemicals segment lifted income from operations (Ebit) before special items by 244 million to 1.8 billion euros. Basf recorded a slight decrease in Ebit before special items in the Oil & Gas segment and a considerable decline in the remaining segments and in other, mainly as a result of higher raw materials prices.
Third-quarter Ebit included net special items of 198 million euros, after minus 52 million euros in the prior-year quarter. This was mainly due to special income in the performance products segment from the transfer of Basf's leather chemicals business to the Stahl group. As a result, Ebit rose from 1.5 billion to 2 billion euros.
Compared with the prior-year quarter, income from operations before depreciation, amortization and special items (Ebitda before special items) increased by 303 million to 2.8 billion euros and Ebitda by 570 million to 3 billion euros.
Net income rose by 448 million to 1.3 billion euros. Earnings per share were 1.45 euro in the third quarter of 2017, compared with 0.97 euro in the prior-year quarter. Adjusted for special items and amortization of intangible assets, earnings per share amounted to 1.40 euro (prior-year quarter: 1.10 euro).
In the first three quarters of 2017, cash provided by operating activities rose by 1.8 billion euros year-on-year to 7.6 billion euros. This is mainly due to the rise in net income. Free cash flow rose from 2.9 billion to 5 billion euros in the first nine months of 2017.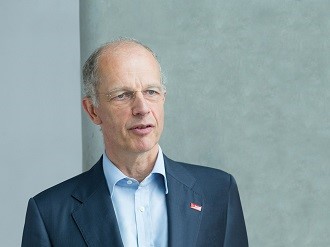 Outlook for full-year 2017
Basf has slightly raised its expectations for the global economic environment in 2017 (forecast from the Half-Year Financial Report 2017 in parentheses):
- growth of gross domestic product: 2.8% (2.5%);
- growth in industrial production: 3.1% (2.5%);
- growth in chemical production: 3.4% (3.4%);
- average euro/dollar exchange rate of 1.10 dollar per euro (1.10 dollar per euro);
- average brent blend oil price for the year of 50 dollars per barrel (50 dollars per barrel).
"For the second half of 2017, we now expect the Basf Group's Ebit before special items to considerably exceed the level of the second half of 2016", said Bock. "We are maintaining our forecast for sales, Ebit before special items and Ebit for full-year 2017: We expect them to increase considerably. The same now also applies to Ebit after cost of capital, for which we previously anticipated a slight increase".
Back to previous page