17 battenfeld-cincinnati extruders to MPM
At Plast 2018 with the Next Generation
Seventeen extruders in fifteen years is the order volume placed by the Italian profile manufacturer MPM based in Fratte di Santa Giustina (Padua). Since 2004, this manufacturer of special protective profiles from different thermoplastic materials for industrial applications and refrigeration field has seen steady growth and repeatedly acquired yet another extruder from battenfeld-cincinnati. From May 29 to June 1, the machine manufacturer will present its innovative extrusion solutions at this year's Plast Milan, in hall 13, booth A01.
With the continuously growing market in the technical profiles sector, the demand for customized extrusion equipment is also growing. The conical conEX NG 65 twin screw extruder with the new BCtouch UX control system on display at the booth meets precisely this type of demand.
BCtouch UX for perfectly controlled processes
The new BCtouch UX control system stands out by its intuitive operation with visualization of the line and all of its components, since the display functions are modelled on the modern user interface concepts of smartphones and tablets. Totally in line with the Indus-try 4.0 principle, this control system promotes production optimization. Its four most prominent features are the OPC UA data port, preventive maintenance, easy remote servicing and simulation for training purposes.
For its most recent order, M.P.M. also chose the new BCtouch UX control system. The customer has absolute confidence in the sup-port and service provided by battenfeld-cincinnati. "Especially in the production of non-standard profiles, which are a part of our product portfolio, we need reliable, high-performance, but also flexible processing machines, with which we can process polyolefin as well as the various types of thermoplastic materials, including foamed plastics", is how the company's CEO Luca Mason expresses his satisfaction with his long-standing machinery supplier.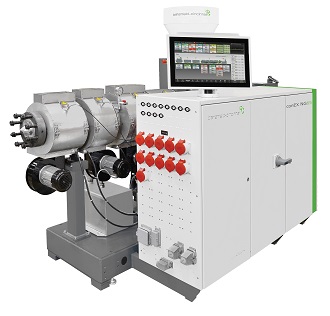 conEX NG series for PVC profile extrusion
With the three models of the conical Next Generation (NG) extruder series from battenfeld-cincinnati, the various types of PVC, regrind and materials with varying bulk weights can all be pro-cessed without any problems, and the equipment can handle high tooling pressures of up to 520 bar as well. Based on comprehensive extrusion know-how and their proven predecessor models, these extruders come with a completely re-designed processing unit. Their extended pre-heating zone and optimized screw geometry ensure high outputs.
In April 2018, the complete mono- and co-extrusion lines on order have been delivered to MPM. The scope of delivery also includes the downstream equipment with the downstream models techBEX and baseBEX, which cover the entire product portfolio ranging from extremely small to large technical profiles. In this way, the Italian profile specialist, which makes all of its tooling in-house, continues to increase its production capacity and is thus well pre-pared to meet the demands of the market.
Back to previous page