RadiciGroup main sponsor of Atalanta
After the Italian Cup and the Europe League, also the Italian Serie A League
In the 2018-2019 season, RadiciGroup will be the main jersey sponsor of Atalanta in all the matches of the Italian Serie A League, Uefa Europa League and the Italian Cup. On June 28 in Bergamo (Italy), RadiciGroup and Atalanta officially presented their partnership and, for the first time, gave the press a preview of the team jersey, made by Joma, that the team players will be wearing in their upcoming matches.
Antonio Percassi, president of Atalanta, hosted the ceremony: "It is with great pleasure that we announce today the renewal of the sponsorship by RadiciGroup. It is a fantastic group, doing phenomenal things in the local community, and a group that boasts great international prestige, as well. Together, RadiciGroup and Atalanta are going to make Bergamo a well-known name everywhere in the world".
For the presentation of the new team jersey, RadiciGroup was represented by Angelo Radici, president, and Maurizio Radici, vice president, of the Group.
"The past season, we had an amazing adventure, during which the RadiciGroup brand name enjoyed great European visibility, particularly in the Group's target markets", Angelo Radici said. "Therefore, we decided to renew our successful partnership with Atalanta, the Bergamo football club - the team of the province where, over 75 years ago, our group was founded and now employs 1,500 people working in factories that produce plastics and synthetic fibres".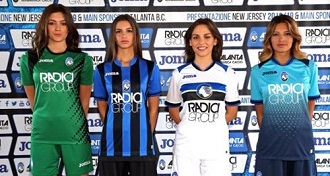 "Today, RadiciGroup is a multinational with sites all around the world producing and selling innovative and sustainable products targeted at numerous sectors, among which sports and football", stressed Maurizio Radici. "We, thus, believe the partnership is also an opportunity to strengthen our business by making RadiciGroup a better and more widely known name. We are the only vertically integrated producer of nylon in Europe".
Back to previous page