New HP Jet Fusion
3D printers for functional parts in full colour, black or white
On February 5 HP expanded its 3D printing portfolio with the introduction of its new Jet Fusion 300/500 series of 3D printers, the industry's first 3D printing technology to enable manufacturers to produce engineering-grade, functional parts in full colour, black or white - with voxel control - in a fraction of the time of other solutions. Depending on configuration and colour preference, the Jet Fusion 300/500 series is available starting in the 50,000 dollars, enabling small- to medium-sized product development teams and design businesses, entrepreneurs, and universities and research institutions to access HP's industry leading Multi Jet Fusion printing technology.
The new Jet Fusion 300/500 series complements HP's existing industrial-grade Jet Fusion 3200/4200/4210 3D solutions which deliver the lowest cost per part and are designed for manufacturing environments. With this portfolio expansion, HP is providing users of its Multi Jet Fusion solutions the ability to prototype and produce new designs and applications on the same platform and stay ahead with a future-ready technology for voxel control beyond colour.
"HP is committed to democratizing 3D design and manufacturing, unleashing new possibilities for millions of innovators around the world", said Stephen Nigro, president of 3D Printing, HP. "No matter your industry, no matter your design complexity, no matter what colours fit your business needs - black, white, or the full colour spectrum - the new HP Jet Fusion 300/500 series gives you the freedom to create brilliant new parts liberated from the constraints of traditional production methods".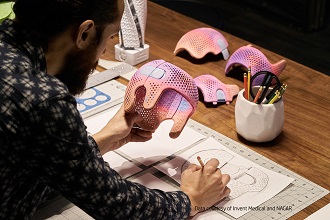 "At Phoenix Children's Hospital, we strive to create personalized experiences benefitting the long-term well-being of our patients", said Justin Ryan, Cardiac 3D Print Lab, Phoenix Children's Hospital. "From visually-appealing casts and corrective devices, to custom surgical guides, to interactive and personalized anatomical models, we see tremendous value in the design possibilities and highly-accurate and durable parts from HP's new 3D printers".
In addition to providing voxel-level control, the new Jet Fusion 300/500 series of 3D printers has a compact design, enhanced workflow solution, and the world's first integrated and automated materials delivery system, enabling greater unattended operation, ease of use, and dramatically increasing production efficiency and output. The Jet Fusion 300/500 series also supports the three leading colour file formats (OBJ, VRML, and 3MF) enabling designers to reliably and easily produce the parts they want without the inconvenience of file conversion or data corruption.
The HP Jet Fusion 300 / 500 series offerings include:
- Jet Fusion 340 (Black and White)/380 (Colour): for customers who have smaller part-size needs or who commonly print fewer parts per build;
- Jet Fusion 540 (Black and White)/580 (Colour): with a bigger build size than the 300 series for customers who have larger part-size needs or heavier production demands.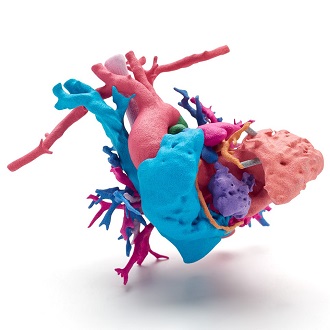 The HP Jet Fusion 300/500 3D printers will launch with a new material, HP 3D High Reusability CB PA 12. Parts using this material will have mechanical properties similar to the HP 3D High Reusability PA 12 material from HP's industrial solutions.
The Jet Fusion 300/500 series will ultimately support similar materials as the Jet Fusion 3200/4200/4210, and also support unique materials that enable colour or other voxel-level capabilities.
The HP Jet Fusion 300/500 series of 3D printers is available for order today and will begin shipping in the second half of 2018. For complete details and technical specifications please visit HP.com/go/Color3DPrint.
Back to previous page